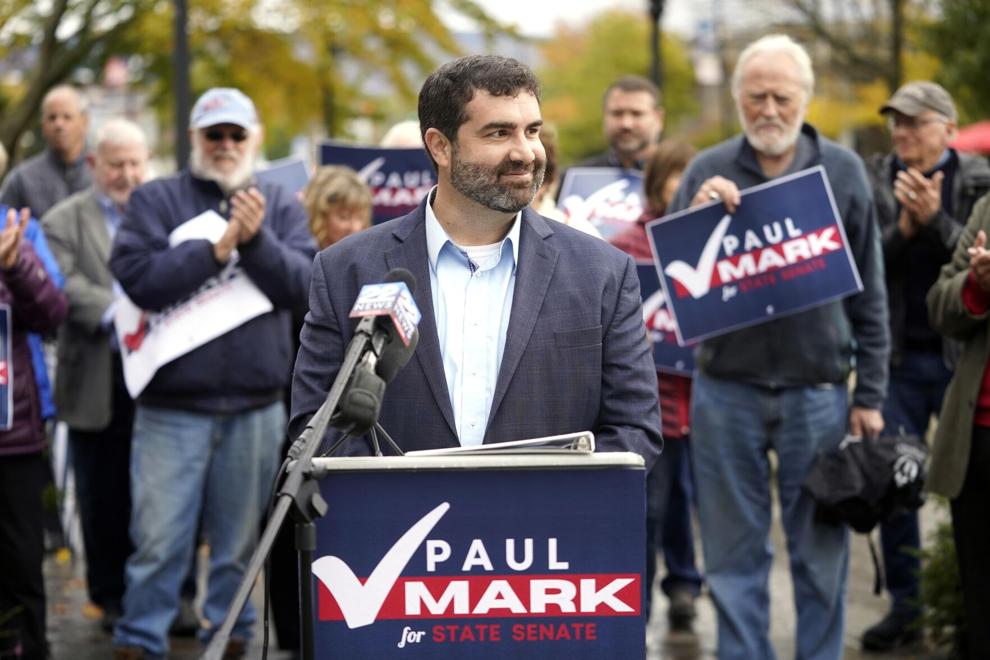 PITTSFIELD — State Sen. Adam Hinds, D-Pittsfield, has officially endorsed State Representative Paul Mark to succeed him in the seat he is leaving.
Hinds is not seeking re-election to the Senate seat representing Berkshire, Hampden, Franklin and Hampshire counties. He recently ended his candidacy for lieutenant governor.
"Paul has been a strong voice for Western Mass., someone who understands and lives the unique experiences of being away from our state's capital, and he will stand up for working families at every turn. I had the benefit of working with him and seeing his effectiveness first hand," he said in a prepared statement. "It is for these reasons and many more that I am proud to endorse Paul Mark for the State Senate."
Senate candidacy launched, state Rep. Paul Mark aims to help 'working families'
Mark is opposed by fellow Democrat Huff Templeton of Williamstown in the September 6 Democratic primary. There are no declared Republican candidates for the seat, so the winner of the primary will run unopposed in the Nov. 8 general election.
Hinds' endorsement adds to the growing list of endorsers, including US Senator Ed Markey; State Representatives Tricia Farley-Bouvier, D-Pittsfield, William "Smitty" Pignatelli, D-Lenox, John Barrett III, D-North Adams, Lindsay Sabadosa, D-Northampton, Natalie Blais, D-Sunderland; former State Representative Steve Kulik, D-Worthington; and a growing number of specialized trade unions and activist groups.
"I am honored to have the support of Senator Hinds," Mark said in a prepared statement. "Adam was a Berkshires champion and fights for every town in the district. From his work securing rural scatter assistance for our local school districts to defending the Berkshire Flyer and the West-Eastern Railway, Adam has worked for our district. As a state senator, I look forward to continuing to fight for our underserved communities, and I will be ready to take office effectively from day one.
Rep. Mark's campaign just announced two upcoming events: State Senator John Velis, D-Westfield, chairman of the Joint Veterans Affairs and Foreign Affairs Committee, will join Mark at 5:30 p.m. Tuesday at the Rail Trail Ale House in Southwick . And State Senator Jamie Eldridge, chairman of the Joint Committee on the Judiciary, will join Mark at 5:30 p.m. on July 18 at the Methuselah Bar and Lounge in Pittsfield.