NEWPORT BEACH, Calif. — Candidates for Congress, Senate, and State Assembly debated Oct. 12 at the Speak Up Newport Candidates Forum on issues including local government oversight, crime, and violence. 'roaming.
Assembly District 72
In attendance was Newport Beach Councilwoman Diane Dixon, who is running for election for the 72nd Assembly District. The district includes the coastal towns of Seal Beach to Laguna Beach and extends to parts of Aliso Viejo and Lake Forest.
Dixon, 70, a Republican, was elected to the Newport Beach City Council in 2014 and served two terms as mayor. She also sits on the city's finance committee.
At the regional level, she serves on the Southern California Association of Governments, a metropolitan planning organization for six counties in the state, and is a board member of the Orange County Council of Governments, a joint authority made up of county towns. of Orange.
As a Republican, Dixon said she seeks to balance Sacramento's Democratic supermajority.
"Sacramento has been in the hands of a Democratic supermajority for almost 20 years now," she said.
She attributed the state's high cost of living, homelessness and crime problems to poor decisions made at the state level.
Dixon argued for local control, pointing to issues that concern her, such as the state forcing cities to zone in for more housing.
"Centralized planning is not working in our coastal cities. We have to take control," she said.
Also in attendance was Dixon opponent Judie Mancuso, 59, a Democrat, animal rights activist and CEO of Social Compassion, an organization that has spearheaded 60 state animal rights bills, 22 of which were promulgated. She is also Vice Chair of the Laguna Beach Environmental Sustainability Committee.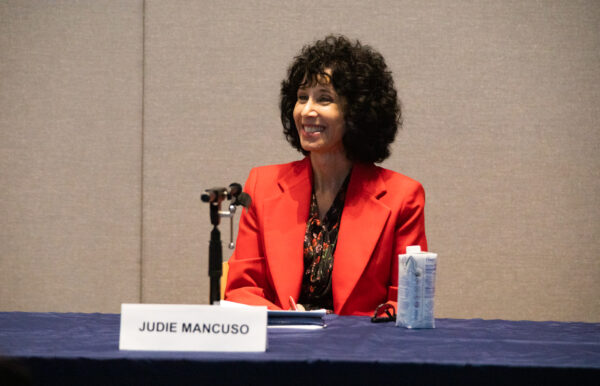 Mancuso said Sacramento's Democratic supermajority is a result of California's shared values, and with her experience already passing bills, she will work well with both political parties.
"I've been getting things done in Sacramento for 17 years…I'll be able to deliver because I know how to do it and I have a great track record," she said.
Mancuso said she supports more affordable housing and suggests repurposing buildings to meet state requirements. She said tackling hate crimes was a major issue for her, as well as for sober houses in residential neighborhoods.
Senate District 36
The candidates running for the 36th Senate District are Congresswoman Janet Nguyen (R-Huntington Beach) and Huntington Beach Mayor Kim Carr. The district covers Seal Beach to San Clemente and reaches inland to include Westminster, Fountain Valley, Cypress, Buena Park, Garden Grove and Cerritos.
Nguyen, 46, a Republican, currently represents the state's 72nd Assembly District and is a former state senator and Orange County supervisor.
She said she escaped communism in Vietnam and has now lived in Orange County for more than 30 years.
"I am very grateful to live in this great country," she said.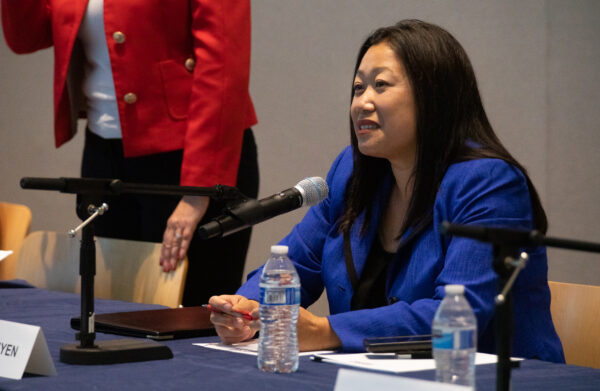 His most recent bill, which was signed into law by the governor in September, requires law enforcement to post monthly hate crimes and statistics online.
She said California ranks first in cost for almost everything, like gas prices, cost of living, and has more homeless people than any other state. She said she would continue to fight in Sacramento to bring those numbers down.
"I will fight for a better future for our state. California is at breaking point. That's why I hope I can count on your vote and support," Nguyen said.
Carr, a Democrat, was elected to the Huntington Beach City Council in 2018 and has served as its mayor since 2021. She has also served on several boards, including the California Commissions on Aging, which advise state agencies on services to the elderly.
Carr touted her ability to cross party lines and her experience working with others as a businesswoman.
"You want someone who understands your values ​​and who will represent you, not a party," she said.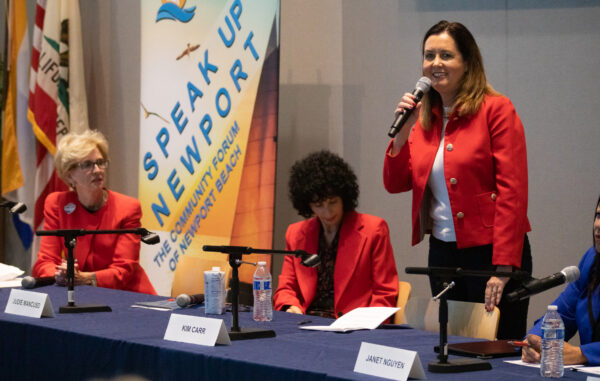 She said as mayor she helped start Be Well OC in Huntington Beach, an organization that sends out "crisis counselors" in a van to deal with non-emergency mental health crises.
Homelessness was also a big issue for Carr. She said everyone needed to work together, including business owners, faith-based organizations, nonprofits and residents to solve the problem.
"It takes everyone rowing in the same direction to really make a dent in homelessness," she said.
Congressional District 47
Scott Baugh and outgoing Rep. Katie Porter (D-Calif.). The district includes Irvine, Costa Mesa, Seal Beach, Huntington Beach, Newport Beach and Laguna Beach.
Baugh, 60, a Republican, is a former Assembly leader who represented the 67th District in coastal Orange County from 1995 to 2000. He is also president of the Gang Reduction Intervention Partnership, which works with local law enforcement to prevent children and teens from joining gangs.
Baugh said one of the main reasons he is running is the $31 trillion national debt and that he will make efforts to balance the budget.
"We have a Congress that takes away all the spending itch they have," he said.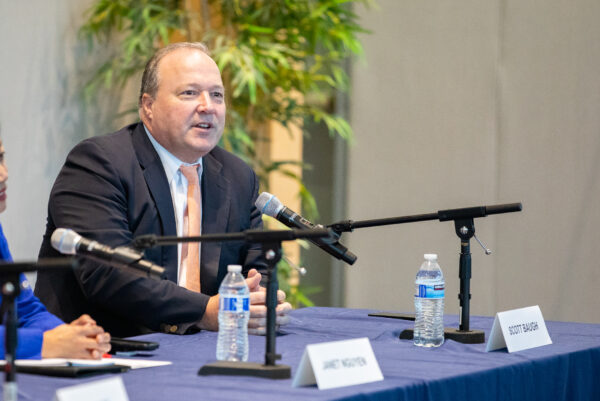 Tackling crime, he said, was his other goal.
He attributed a national increase in illegal drug use to the prevalence of fentanyl from overseas crossing the southern border.
He also attributed the state's increase in petty theft to the legislature, such as Proposition 47, which raised the minimum amount of stolen property from $400 to $950 for a case of theft to be classified as a felony. .
"Guess what happens when you don't enforce the law, people start breaking the law," he said. "We have to enforce our laws, we have to keep our community safe, we have to keep our police fully funded."
Porter, 48, a Democrat, is in his second term in Congress. Before the congress, she was a former lawyer and taught law at the University of California at Irvine. She did not attend the forum due to a scheduling conflict.