The 'Borat' actor was seeking $11.5 million in damages over a billboard ad that falsely implied he supported the cannabis company and its products
Content of the article
No settlement has been announced, but actor and activist Sacha Baron Cohen would not continue his lawsuit against a cannabis dispensary that used an image and slogan of his Borat character in a billboard without permission.
Content of the article
According to The Associated Press, a document filed in federal court in Boston notes that Baron Cohen, 50, and Massachusetts cannabis company Solar Therapeutics Inc. have agreed to drop the case.
WPRI reports that the lawsuit was dismissed with prejudice.
Clarence Clemons' son faces fines for using late saxophonist's name to sell cannabis products

Cointreau sues Canopy in beverage naming dispute

Clint Eastwood Isn't Retiring From Movies To Start His Cannabis Business, Online Scammers Sue Claiming Otherwise
Information from Cornell Law School explains that dismissal with prejudice means "the plaintiff cannot refile the same claim in this court." This type of rejection is considered a "decision on the merits" and, as such, the court "decided on the legal and factual issues of the application".
Content of the article
What did the billboard represent?
The billboard in question, which was displayed on a Massachusetts highway, depicted the character of Borat, a fictional Kazakh journalist, giving a thumbs up and exclaiming "That's nice" next to the company name and of Happy 4-20! message.
Although Solar Therapeutics removed the ad three days after receiving a cease and desist letter in April 2021, it refused to compensate Baron Cohen for any exploitation of his image and Borat persona.
Last summer, Baron Cohen and his California-based company Please You Can Touch LLC responded by filing an $11.5 million lawsuit against Solar Therapeutics and its CEO. It has been argued that the advertisement falsely implied that the comedian, producer and social activist endorsed the company's products and activities.
Content of the article
Solar's cannabis dispensary in Somerset, MA offers a line of sustainably grown cannabis flowers, as well as its line of solvent-free concentrates, CO2-derived extracts and vegan edibles.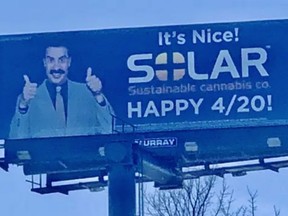 The lawsuit cited copyright infringement and false advertising
The unlicensed use of Baron Cohen's image, along with the implied endorsement and affiliation with the company, is false, the lawsuit states. The ad represents willful copyright infringement, false advertising and a violation of Massachusetts law against misappropriation of publicity rights, he added.
Lawyer David Condon wrote in the lawsuit that Baron Cohen "has never used cannabis in his life" because "he doesn't think it's a healthy choice." Additionally, Condon added, Baron Cohen "would never participate in a cannabis advertising campaign, for any amount of money," because he feels it would undermine his credibility as an actor and social activist.
Content of the article
Borat Character Retired Because He Was Getting Too 'Dangerous'
Cohen won the Golden Globe for Best Actor for Borat Next Moviewhich came out in 2020, and the picture won top prize for Best Musical or Comedy.
Last year, however, Baron Cohen said entertainment tonight that he was retiring Borat and that he was done with the costume movies.
When asked why, he noted that things were getting too dangerous. "For Borat, there were a few times I had to put on a bulletproof vest to go and shoot a scene, and you don't want to do that too many times in your life. I was lucky to get out of it this time, so no, I won't do it again. I'll stick with the scripted stuff.
Other celebrities whose names and images have been used in false endorsements for real or fraudulent products in the past include David Attenborough, Clint Eastwood, Mary Berry and Tom Hanks.
To subscribe to weekend dispensarya weekly newsletter from The GrowthOp.