Philippine Ambassador Alan L Deniega met on Wednesday with Rizwan Rahman, President of the Dhaka Chamber of Commerce and Industry. Photo: Collected
">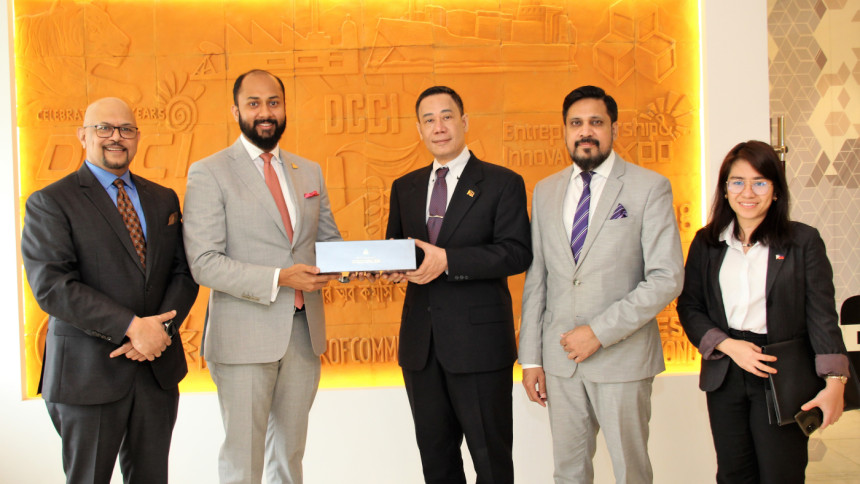 Philippine Ambassador Alan L Deniega met on Wednesday with Rizwan Rahman, President of the Dhaka Chamber of Commerce and Industry. Photo: Collected
After upgrading to developing country status, Bangladesh may take the lead in holding talks with ASEAN countries to sign a free trade agreement (FTA) to expand its exports and trade, said said today the Ambassador of the Philippines, Alan L Deniega.
The Ambassador made the observation during a meeting with Rizwan Rahman, President of the Dhaka Chamber of Commerce and Industry, yesterday.
For all the latest news, follow the Daily Star's Google News channel.
ASEAN is an organization of 11 Southeast Asian countries, including Brunei, Myanmar, Cambodia, Indonesia, Laos, Malaysia, Philippines, Singapore, Thailand and Vietnam.
Deniega said domestic tourism in Bangladesh was quite good and growing day by day, but infrastructure development was crucial here to attract foreign tourists.
The Ambassador also believed that direct air connectivity between Dhaka and Manila can play a vital role in expanding trade and investment opportunities, including tourism, between the two countries.
During the meeting, the DCCI Chairman urged Filipino investors to invest in health and tourism sectors in Bangladesh.
He also proposed that the Philippine envoy establish a nursing institute in Bangladesh to train health professionals.
Rahman mentioned that the two-way trade between the two countries was $124.24 million in the financial year 2020-21, where Bangladesh's imports and exports were $49.72 and $74.52 million respectively. .
Signing the FTA, launching a direct air link between Dhaka and Manila and modernizing customs regulations can play a vital role in boosting trade and investment between the two countries, he said.
During the meeting, Akbar Hakim, President of the Bangladesh-Philippines Chamber of Commerce and Industry, stressed the need to take the initiative to organize two-way reciprocal business visits to improve people-to-people connectivity between the two countries.